Description
35 cm - 12 liters - 1 kg ~ Vintage pin's 2-compartment satchel from Cameleon. Carry it wether in your hand wether on your back. A comfy and practical 2-compartment satchel.
Les atouts Caméléon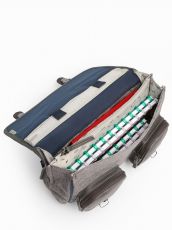 Dedicated space for the ruler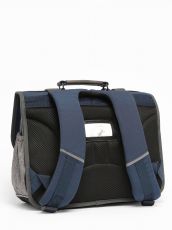 Padding on the back for maximum comfort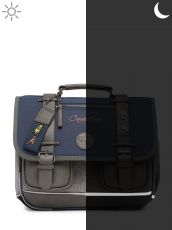 Reflective stripes for safety.
Technical description of the product
General
Composition : Recycled Polyester
Dimensions : 35(L) x 14(D) x 29(H) in cm
Weight : 1,000 kg
Line : Vintage pin's
Reference : 709-VIP-CA35
Reference manufacturer : VIP-CA35
Exterior features
Age : 6 years old
Number of front pockets : 3
Number of side pockets : 1
Adjustable straps : Yes
Fastening : Flap, Clasp
Way to carry : In your hand, On your back
Interior features
Number of compartments : 2
Number of zip pockets : 1
Composition : Textile
Can contain
A4 folder (21x29.7cm) : Yes
Notebook (17x22cm) : Yes
Notebook (21x29,7cm) : Yes
Notebook (24x32cm) : Yes
Binder (17x22cm) : Yes
A4 binder (26x32x4cm) : Yes
Big A4 binder (32x29x7cm) : No
Other Caméléon schoolbags 35 cm