Caméléon assets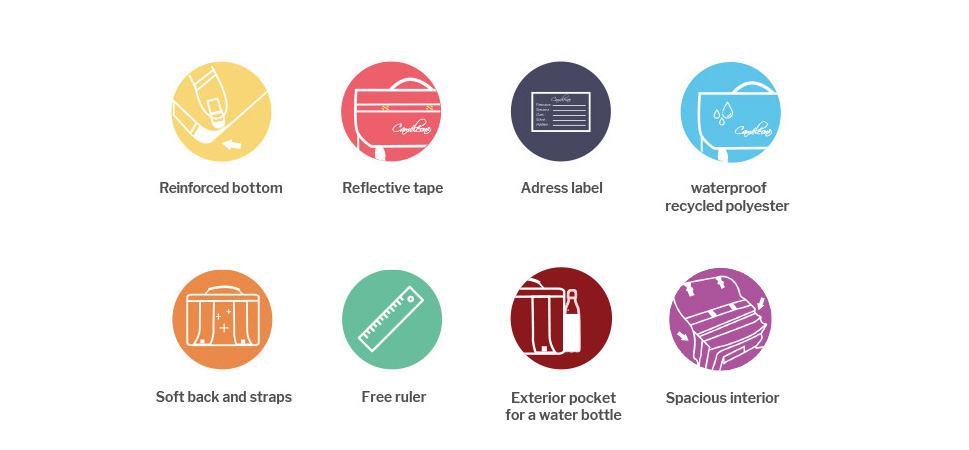 Comfort & Ergonomics
The new Cameleon schoolbag collection has been modified in order to lighten the weight while improving comfort and maintaining a very high level of solidity. Cameleon schoolbags & backpacks are made of polyester, which makes them water resistant. In case of rain your child's belongings will not get wet. Caméléon schoolbags and backpacks are made from recycled polyester for the Vintage Fantasy, Vintage Urban and Retro lines. When it rains, your child's belongings won't get wet, thanks to the water-resistant fabric.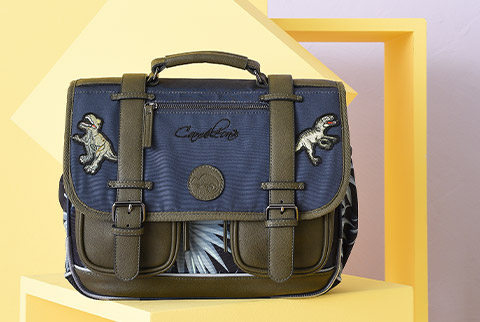 Cameleon schoolbags and backpacks are designed for optimum comfort. Ergonomically designed, they are equipped with comfortable, stuffed and adjustable straps. The shoulder straps will help relieve the load on your child's back. The back of the schoolbag is also stuffed and has reinforced parts for extra strength. The Actual line has a reinforced and stuffed handle.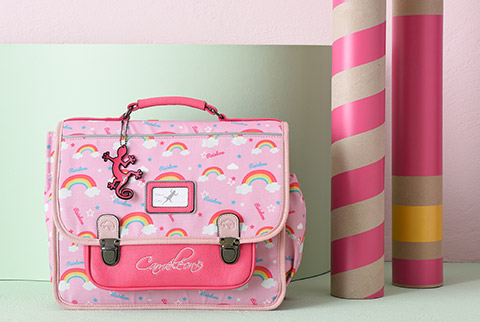 Resistant, the schoolbags and backpacks are equipped with a reinforced bottom and reinforcements in the corners. The schoolbags of the Vintage and Retro lines have flat clasps to prevent them from opening on their own, while guaranteeing easy use for the child.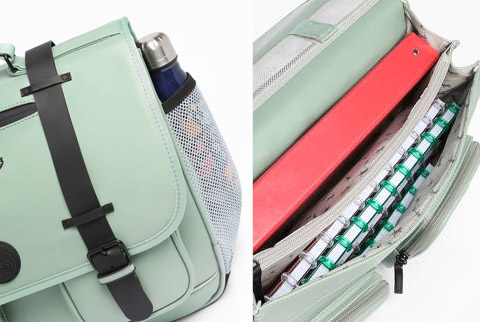 The inside of the schoolbag is also well thought out: it consists of two compartments separated by a central zipped pocket. The 41cm schoolbag has three compartments. A Cameleon ruler will be provided for all 35, 38 or 41 cm schoolbags and placed in its dedicated space. Practical, all models have a name label. All models have a name tag and an elastic band for a water bottle.
ECO-RESPONSIBLE
Because we at Caméléon are concerned about the environment and the future of the planet for our children, we have adopted a more eco-responsible approach. For this new 2021 collection, the brand has decided to use mainly recycled polyester from plastic bottles and GLOBAL RECYCLING STANDARD (GRS) certified.
The schoolbags and backpacks of the Vintage Fantasy, Vintage Urban and Retro lines of Cameleon are made of recycled polyester, a material that respects nature and gives a second life to our waste. The recycled material makes up more than 50% of the weight of the finished product.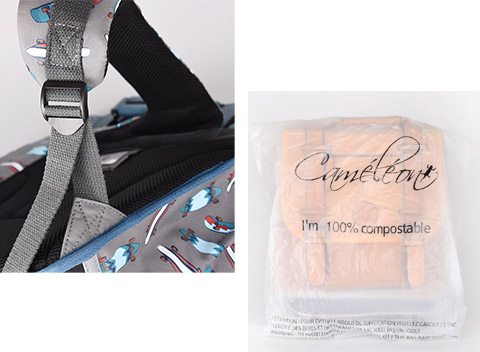 But our commitment does not stop there. Indeed, both the straps and edges are now made of cotton. As for the packaging, we use a material based on corn starch that is 100% compostable and biodegradable.
Models with wheels
A schoolbag or backpack with wheels can be a good alternative for children who have a long way to go between school and home, for example. Equipped with a metal bearing, the wheels will be more resistant to impacts than plastic bearings. A protective flap is also provided so that the wheels do not get your child's back dirty when putting the schoolbag on.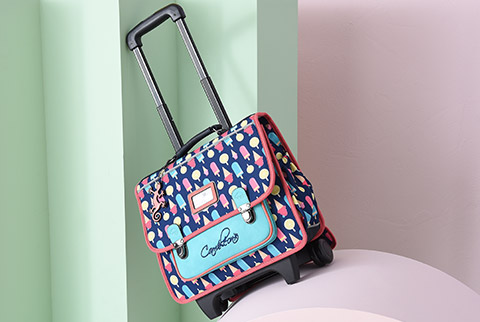 Reflective strips
For extra safety, Caméléon bookbags and backpacks feature reflective strips on all four sides. This will maximise your child's visibility, even at night.