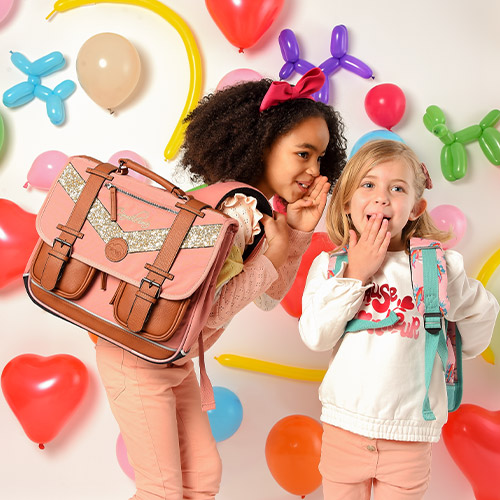 Small, strong...and clever!
The chameleon is a small African lizard known for its remarkable ability to adapt to its environment. In short, a perfect name for our range of schoolbags designed to adapt to every moment of your children's school day. Robust, colourful, atypical and very trendy, our schoolbags have that little extra that makes all the difference in the schoolyard. As the new school year approaches, the choice of schoolbag is an important moment for your child. It should not be neglected! From the earliest age, the schoolbag is a comforting transition object between home and school. Your child is often proud to show it to his friends. Caméléon is keen to offer you the best for the new school year with a wide choice. This is why we have created 3 very different lines: Retro, Vintage and Actual.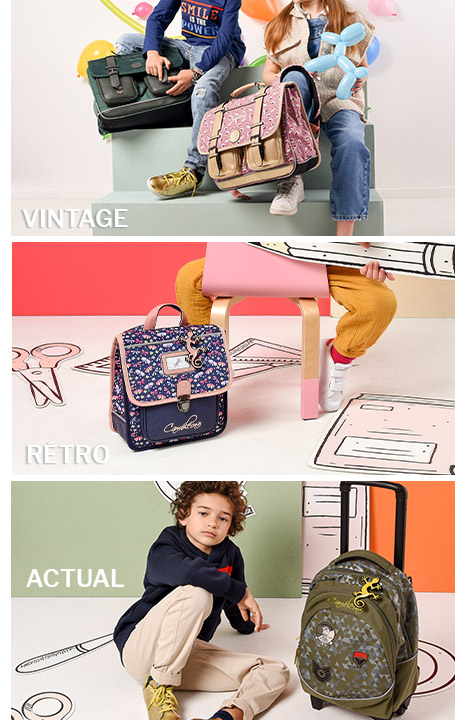 Lots of style and choice for the new school year!
To find the bag that best suits your child's personality, our creations offer 3 very different lines.

First of all, the vintage range with its timeless look that combines simplicity and originality. The schoolbags of this line have several compartments to store books and notebooks. At the front, there are two zippered pockets. Perfect for storing snacks and protecting them from friends who love food too much... Finally, the little extra, a label to put your name and a place for a ruler inside the schoolbag, which is clever! In terms of comfort, the bottom of the schoolbag is reinforced and the back as well as the shoulder straps are stuffed. The charm of the old, the comfort of the modern.

On the other hand, the retro range highlights a refined look with an assertive "Old School" style. In terms of storage, you will also find two large compartments so that your child can keep personal belongings well separated. At the front, there is a large pocket, perfect for a diary or a snack. The extra touch? A water-repellent treatment to prevent your children's school items from getting wet, a space for a ruler inside the schoolbag and a label on the front.

And finally, our Actual range, which is modern, stylish and colourful at the same time. These schoolbags are a real eye-catcher in the schoolyard. There are several compartments to keep your belongings separate, a small zipped inside pocket and a large practical outside pocket for the last things you forgot to pack. As a little extra, a ruler is integrated into the schoolbag and a label on the back to write names.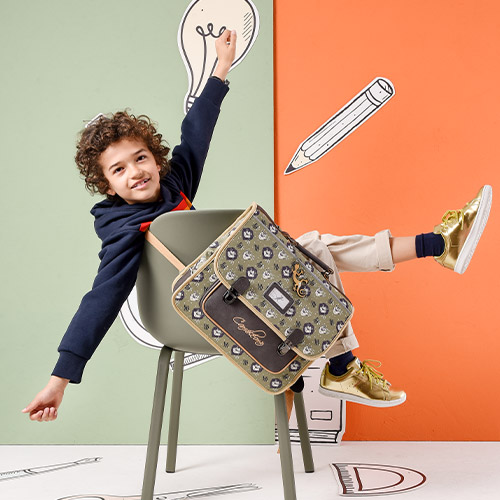 Recommended by parents and loved by children!
The result of an in-depth study of children's morphology, our backpacks have an ideal level of comfort and respect their growth. Indeed, a school backpack for a very small child must be morphologically adapted. A good schoolbag is a schoolbag that is easy to forget once it is put on your child's back. Your child must be able to run, jump, pedal without feeling uncomfortable! Stuffing on the back and shoulder straps, extra strong stitching, clever storage, reflective strips to be visible in the early morning and at nightfall... A multitude of details that have made the Caméléon schoolbag a must for the new school year. A "must have" that your children will never want to leave. Indeed, the school material inside a schoolbag is a heavy load. Your children deserve special attention for their comfort and health! Reinforcements and stabilising elements in several places are the priority in all our schoolbags.
2018: Launch of the website
Due to the success of our products, we have decided to launch a website dedicated to the Caméléon universe.